MIKE'S CLOCK EMPORIUM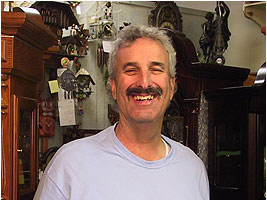 Mike's Clock Emporium
SINCE 1984
OFFERING SALES AND SERVICE THROUGHOUT SOUTHERN CALIFORNIA AND BEYOND
MIKE'S CLOCK EMPORIUM offers rare expertise in clock Sales and Repair
and is proud to offer
"TRUE CRAFTMENSHIP AND CUSTOMER SERVICE IN EVERTHING WE DO".
Mike's Clocks Emporium carries a large variety of
Mike's Clock Emporium services and repairs clocks of all kinds.
Authorized Factory Service Center For Hentschel Grandfather Clocks

Authorized Factory Service Center For Schneider Anton Cuckoo Clocks

Repairs On Every Type Of Clock including: Mechanical Movements, Quartz movements and Anniversary Clocks

Clock Cabintery and all kinds of Glass.
We here at Mikes Clock Emporium hope you enjoy your visit. .
Our store hours are from 10 am to 5pm 7 days a week Pacfic Standard Time
MIKE'S CLOCK EMPORIUM * SALES & REPAIR
4365 Valley Faire Street
Simi Valley, California 93063
805-813-0741
Please do not hesitate to call us and leave a message anytime. We will get back to you promptly.
THANK YOU,
Mike Brindley
WE ACCEPT PAY PAL
Our Company Moto
Giving Always, Intergrity in Everything